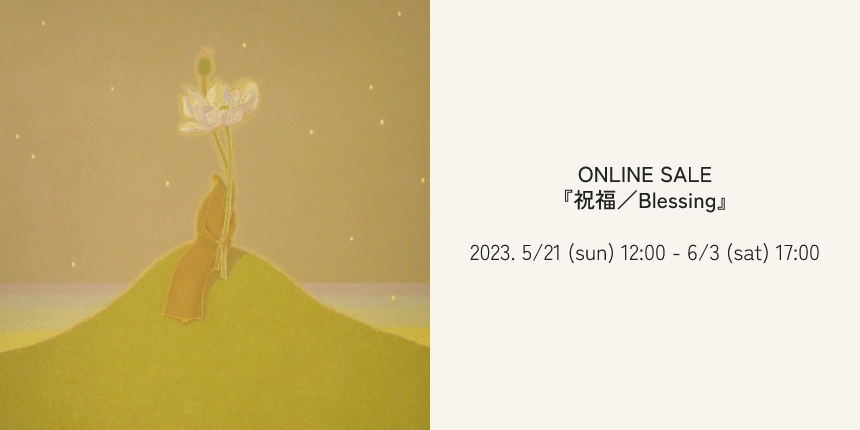 ***
このイベントは終了しました。ありがとうございました。
***
いつも『-夢見る絵画-YUSAKU MUNAKATA ART GALLERY』をご利用いただき、誠にありがとうございます。
ONLINE SALE『祝福/Blessing』開催のお知らせです。
・・・・・
【内容】
「静けさと物語性に満ちた心象絵画」や「いのちの世界を表現した抽象作品」など約15点を出品・販売します。
今回は『祝福』を感じられるような作品を集めました。
お楽しみいただけましたら幸いです。
【販売期間】2023年5月21日(日)12:00~6月3日(土)17:00
【送料】無料
・ご注文から7営業日以内に発送。
・商品に欠陥がある場合を除き、返品不可。
・・・・・
今回から販売期間を決め、毎回テーマに沿った作品を厳選して販売することにしました。
今後も、このような形式でオンラインセールを開催していく予定です。
これからも、よろしくお願いいたします。
**********
Thank you for using our online shop "YUSAKU MUNAKATA ART GALLERY".
Notice of ONLINE SALE "Blessing".
[Content]
About 15 works will be on sale, including "imaginary paintings filled with tranquility and narrative" and "abstract works that express the world of life."
This time, we have collected works that make you feel "blessing".
I hope you enjoy it.
[Sales period]
May 21, 2023 12:00 to June 3, 17:00 / Japan time
■ Free worldwide shipping.
■ Shipment is EMS.
■ Shipped within 7 business days of order.
■ Returns are not possible unless the product is defective.
■ Customs duty may be incurred. In that case, the customs duty etc. that occurred will be borne by the purchaser.